Meet the redhouse studio Team
Special Thanks to Our Former Team Members
KASHMIRA KADAM
Education: University of Mumbai
Affiliations: Light and Canvas
Designing and photography passions allow Kashmira to look at the surroundings little differently. In 2016, she joined redhouse to improvise neglected spaces through designing and log the journey through her photography. Kashmira completed her education in Interior Designing from University of Mumbai. After working in the industry for few years, she co-founded a design firm in Mumbai, Design Story, before moving to Cleveland, OH. Currently, she continues to work as an interior designer and follows her photography passion through Lights and Canvas Studio, which she started in 2015.
ORION HANSEN
Architectural designer, Biotect, Bioterialist
Orion is an architecture graduate who strives to catalyze a paradigm shift in the built environment through material innovation and applied research. He graduated from Wentworth Institute of Technology in 2019 and will finish his certification through the university's thesis program. By designing novel bioterials suitable for plastic substitution he aims to not only change the way buildings are conceived, but also how products are consumed.
He has experience in urban planning and design through work at Whole Town Solutions, as well as scientific research experience at Georgia Tech under Jeannette Yen. He aims to hone his skills in material science, architecture, and genetics to catapult redhouse and its surrounding community into a brighter future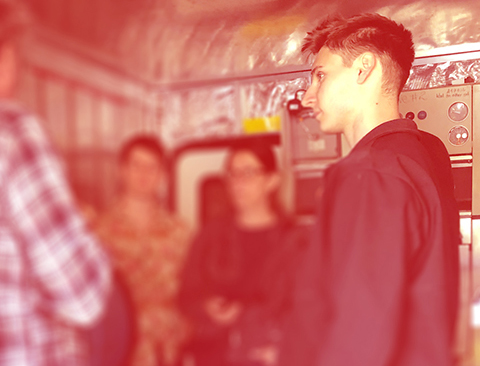 BRENDAN ALCORN
Landscape architectural designer, Biotect
Brendan is a graduate researcher at Kent State University's Cleveland Urban Design Collaborative in Landscape Architecture. He has a degree in architectural design from Kent State and is interested in Urban planning as well. Brendan has also worked in architectural salvage industry so he has seen firsthand the ethos of wastefulness that construction industry routinely deals in when demolishing structures. Through redhouse's biocycler project we hope one day to stem that tide alongside thoughtful salvagers.
QUINTON VICKERS
Sustainability expert, Biotect
Quinton is a sustainability researcher at Cleveland State University. He has studied engineering in many facets including corrosion, but as of late has come to the conclusion that nature may hold some special answers and is turning toward biomimicry. He is mycophile, a lab-wiz, doesn't sleep, and is helping us with some top secret NASA projects (don't tell anyone)
BRIGID CALLAGHAN
Education: Kent State University
Affiliations: AIAS, ACSA
Brigid Callaghan is a designer, building scientist and researcher from Toronto, Canada. She graduated from Kent State University's Bachelor of Science in Architecture in 2015 and remained at KSU to purse a Master of Science in Architecture and Environmental Design. Brigid is interested in utilizing design for service, through the lens of material science, digital fabrication, construction and extreme environments. She has spoken at conferences such as the ARCC Conference: Architecture of Complexity: design, systems, society and environment, and the AIAS Grassroots Leadership Conference: Lead By Example.
Brigid has lived and worked in Florence, Toronto, Southern California before finding herself at redhouse in Cleveland. Currently, she is the Midwest Quadrant Director of the American Institute of Architecture Students and incoming AIAS Vice President and ACSA Student Director.
AARON SCHORDOCK
Architectural Designer, Biotect
Education: Miami University, Kent State University
Aaron knows design to reflect intent and so feels at home contributing with redhouse architects in ways of progressing the applied research & practice of engineering biological materials within the field of architecture. With this comes what he believes to be an essential value shift of design that is culturally and ecologically conducive to life.
Aaron has a Bachelor of Fine Arts in Architecture. Presently he pursues the Master of Architecture and Master of Urban Design Dual Degree at Kent State University's College of Architecture and Environmental Design and Cleveland Urban Design Collaborative.
FARRIS AZIZ
Biotect
Education: Cleveland State University, Case Western Reserve University
Farris Aziz is biological researcher, and software developer from Cleveland, Ohio. He holds a Bachelors of Science degree in Biology from Cleveland State University, and is currently pursuing an accelerated certification program in Software Development at Case Western Reserve University. Through innovative and cost effective problem solving, Farris looks to tackle leading problems in Biological and Biomedical Engineering. Through his work with redhouse studio, he hopes to find sustainable solutions on both a humanitarian and extraterrestrial front.
Mitchell Branscombe, Jimi Brosius
Contact redhouse studio - Residential/Commercial Architect in Cleveland, OH
Top